https://web.archive.org/web/20100419005735/http://www.footflexes.com/index.html
It is important that our bodies receive positive forms of energy most of the time. It is from positive energy that we attain good health, peace of mind, and quietness of the spirit. We can get positive energy from many sources – from proper nutrition and exercise; from exposure to ample sunlight whenever it is safe; from the love, affection, and respect we get from family, friends and peers.
Unfortunately, where there is positive energy, there is also negative energy. We get more than our fair share of it in our daily lives. Fear, stress, anger, hatred and disappointment are all forms of negative energy. We may consciously forget about these things, but our body stores memories of these in energy centers called chakras. When there is too much negative energy in our body, it can lead to illness, both of the body and of the spirit.
http://www.ka-gold-jewelry.com/jewelry-by-meaning Footflexor
Abundance Ring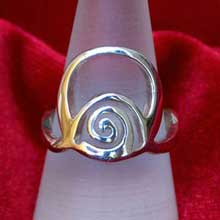 This is where I purchased these beautiful pendants shown below and the Abundance Ring above.
What a great way to get silver into your personal economy and also the energy of sacred science.
The Key of Success Sterling Silver Pendant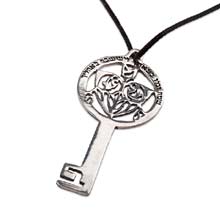 As You Can See, I Love Silver. And I Love The Key Of Success Pendant From Ka Gold All I Can Say Is - The Energy Is There And It Works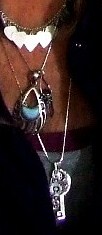 The Mother Earth Sterling Silver Pendant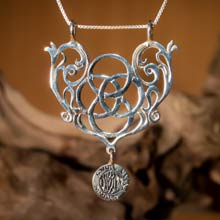 Healing with Cosmic Jewelry
What symbolic jewelry or cosmic jewelry aims to do is to help us attune ourselves to the power invoked by the sacred words and the sacred geometric forms in order to restore the balance of energy and to flush out the accumulation of negative energy in the body. These sacred geometric patterns are found in Nature herself, and the power that they invoke is present in Nature.
By letting ourselves become open to the frequencies that the sacred patterns in cosmic jewelry invoke, we attune our minds to receive the energy channeled by that pattern. At the same time, we also awaken the energy centers in our bodies – our chakras. The same thing happens with invoking sacred words. These words allow our minds to become open and more receptive to healing. The body then responds to the energy and uses it for healing itself. The process becomes even more powerful when the intention of the person who crafted the sacred jewelry is truly aimed towards helping and healing.
"Energy follows thought" is a favorite adage among holistic healers. We allow our bodies to heal by letting energy flow through us and realign us. We allow ourselves to receive this energy by opening our minds and attuning our bodies to the frequencies invoked by sacred words and sacred forms. Wearing symbolic jewelry or cosmic jewelry gives us the means to harness the healing power of these sacred words and sacred forms, and to facilitate the healing process.
Galactic Harmony Sterling Silver Pendant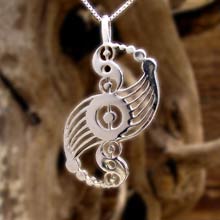 alchemy Sterling Silver Pendant
Country Roads - FootFlexes
Join me here for some interesting stories in reality and some connections to local business (Barrie, Ontario Canada) natural wellness sites or affordable online marketing tips, tecniques and of course - financial growth and passive recurring, online income potentials And Crystal Skull Energy, Just To Name A Few.....
Sounds like a lot - but if you have any questions or would like to know anything - just email
footflexes.@gmail.com
It's about creating teams, wealth, compassion and a new reality financially for many people in the world today - myself included.
And it's about learning to heal yourself and others - emotionlly, physically and mentally. It's all about learning and being what we've never before been and yet have always been. Ourselves.
It's All About Love
Let the Light Shine In Us All.
It's about change.
And it's about me, of course - someone who's been through a lot of forced changes in the immediate past and was forced to look deeply inside myself to create a new and better reality.
Hope you like it.
Linda
http://www.footflexes.com
You can also check out my blog on Blogger for the latest on my trip to Nicaragua.
http://footflexes.blogspot.com
Click the Banner Below and Find Some Beautiful an Powerful Quantum Jewelry. If Any Vibration Can Enhance Your's - It's Silver and Gold - Treasures of the Gaia
Thanks So Much For Your Support Of The Above Links. You Are Allowing The Flow Of Prosperity By Doing So. I Appreciate Your Contribution. May They Serve You Well And May Your Prosperity Flow Abundantly.
Click On Any Link Below To Access Your Interest In FootFlexes. Enjoy!!
Oh - and If You Live In Toronto or Area And Want A Good Buy On A Vintage Home In The Cobourg Area - My Life Change Involves Selling My Mom's Home - Here Is the Realty Ad - Please Help Us Transist Easily And For A Fair Price In Today's Economy. If You Are Seriously Interested, Please Cut And Paste The Link and Call The Agent..... and.....Many Thanks,
http://www.homesandland.com/Real_Estate/ON/City/Baltimore/ListingId/17330900.html
What Is Reflexology And What Can It Do For Me And My Aching Feet????
Reflexology is a natural healing art, a stress reliever, assists the release of endorphins that create a calming and enhanced feeling of relaxation and, greatly enhances the body's ability to rid itself of toxins and blockages that create stress.
A Certified Reflexologist applies pressure to reflexes in the foot, hand or ear to affect an involuntary response to a stimulus from the autonomic nervous system. Nerve impulses from receptors are then transmitted to the central nervous system which in return send outward signals to other body organs, glands or cells.
It is amazing just how much stress can be relieved from one session. Your Body knows best where and when to begin the healing process and will direct any energy to the most critical part first. Like Reiki, Chinese Medicine or BodyTalk - the body's innate wisdom knows exactly where to begin the healing process.
The idea of regular sessions to aleviate stress within the body is in order to allow the body to return to homeostasis after each stressful episode. (disease, illness, depression )
When your whole body is "At Ease" your can be free from "Dis Ease"......
Each Session will allow your body to be less stressed out the next time a stressful situation arises. Each session allows your body to handle the daily stresses and pressures a little bit better.
There are over 7200 nerve endings in each human foot that interconnect through the spinal cord and the brain to affect all areas of the body. The body's nervous system enters the parasympathetic mode when a session is performed and the body's ability to self heal and re-balance is greatly enhanced and an internal balance of homeostasis is better maintained.
The feet are under constant pressure from stress, friction, abuse, physical damage and trauma - as the session progresses. the pain cycle can be interrupted, along with stimulation of the lymphatic reflexes, which in turn boosts the immune system and actually, all body systems benefit as all reflexes in the feet, hands and ears reflect all of the body systems within.
It takes 45 minutes to 1 hour for a complete session that is sure to put your fight and flight meter a lot closer to the rest and repair side - and you'll feel better for it too!....
and
reflexology is a completely natural method that is complimentary to other medical treatments.
The Reflexology Association of Canada defines Reflexology as such:
"Reflexology is a natural healing art based on the principles that there are reflexes in the hands, feet and ears, which correspond to every part, gland and organ of the body. Through application of pressure on these reflexes, reflexology relieves tension, improves circulation and helps promote the natural function of the related areas of the body."
Reflexologists DO NOT
1) Diagnose, 2) Prescribe, 3) Treat for Specific Conditions or
4) Use machines or instruments during a session.
FootFlexes Mobile and Corporate Reflexology
Please use the Links below to choose your session and make payment.
Introducing Ionic Foot Detox Baths
Reflexology Mats - $50.00 each or max 3 for $140 same shipping cost of $10.00